Sometimes, many times actually, my day involves chocolate. Be it a little nibble of a dark chocolate bar or a small pinch of chocolate chips, I just like to have a wee bit to savor. Call it a weakness. Call it an addiction. But whatever it is, I like it that way.
And if chocolate is wrong, I don't want to be right. Baby.
The only time I really 'make' dessert is on Sundays. It is the Sabbath, after all. And so this past Sunday, I made the most delicious of chocolate treats. Are you ready for this?
Chocolate cake. With sourdough.
Crazy, huh. But don't let the sourdough fool you, this cake is anything but sour. If one didn't know that this was a sourdough cake, one wouldn't know this was a sourdough cake. Truly.
When Stuart first bit into the cake, he said 'Wow, it's so fluffy and moist.'
I didn't even make that up either. True story.
If you haven't gotten your sourdough starter brewing yet, read my post
HERE
and get going! All you need is some rye flour and a few days. And there is so much fun to be had in the world of sourdough!
You will need:
– 1 cup milk (preferably raw)
– 1 1/4 cup
dehydrated natural cane sugar
or natural sweetener of choice
– 1 cup
unrefined, virgin coconut oil
or
butter
, softened
– 2 large pastured eggs
Step One: In a bowl, combine the sourdough starter, milk, and flour. Cover and allow the mixture to sit at room temperature for 6-8 hours. If you're not ready to bake the cake after this time, stick the mixture in the fridge until you're ready (just be sure to bring the mixture to room temperature before baking).
See? It's not so scary.
Step Two: After the 'souring' period, mix together the Rapadura, coconut oil, vanilla, sea salt, baking soda, and cocoa powder together (I used my KitchenAid). Then, add in the eggs one by one. And finally, slowly add in the soured flour mixture. Scrap down the sides of the mixer, if need be. Mix, baby, mix.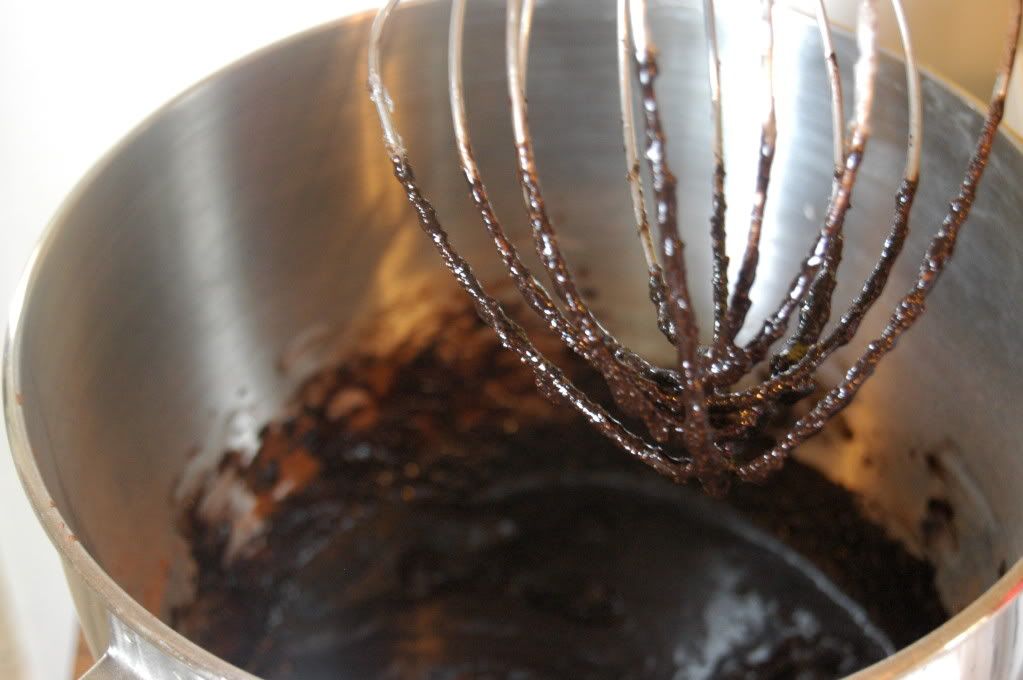 I was having mixer issues.
I also was having issues with dishes. That's what happens when you make ten things at once.
Step Three: Pour into a greased cake pan of your choice (a 9″ x 13″ one works well!). I use coconut oil to grease my pans. Bake the cake in a preheated 350 degree oven for 35-45 minutes or until an inserted toothpick comes out clean.
I overbaked mine slightly because I was outside building a hoop house.
Don't do as I do. What the heck do I know, anyway?
Thought I didn't make it this go round, I'm sure this cake would be absolutely divine with
this frosting recipe
– especially if one were to add a few tablespoons of cocoa powder to the mix. Chocolate on chocolate. That's what I'm talking bout.
Oh, la la. Luscious, moist, chocolatey, and super digestible. Ain't no phytates in this cake, baby. No refined sugars, flours, additives, colorings, or artificial flavorings. Just pure, unadulterated goodness.
Not that that gives me permission to eat this entire cake. It is, after all, a cake.
But that doesn't stop from moderately enjoying a piece or two.
Or three.
It had raspberries on it! What's a girl to do?
I even picked the berries myself, this past summer. I shoved Georgia into a back carrier and picked for over an hour in 100+ degree heat. Did I mention there were spiders and bugs in the raspberry bushes? These raspberries are like blood raspberries. They came with a sacrifice, my friends.
I hope that this cake recipe helps you to enjoy the goodness that whole foods have to offer.Who says eating well has to be a sacrifice?
For other great meal ideas, no matter what your dietary restrictions, check out the meal planning service I use: Real Plans.
DISCLOSURE: In order for me to support my blogging activities, I may receive monetary compensation or other types of remuneration for my endorsement, recommendation, testimonial and/or link to any products or services from this blog. I appreciate the support and love y'all have shown this 'ol blog and will only recommend products that I use, love, or covet. The end.