For my 441st post on this blog, I'd like to share with you my most favorite gazpacho recipe ever.
I've made this recipe a hundred times, and each time, I love it more and more.
I haven't shared it with you yet, as this past spring it was featured in the Parisienne Farmgirl Magazine! Whoo hoo! I thought I'd keep it special for the readers of the magazine, but since the new edition has since been released, I figured I was safe to share it with you – my dear readers – at this very moment. Because something this good can wait no longer.
In the spirit of wild-caught, Gulf shrimp that will soon be on my plate. And in the spirit of all things summer.
I give you…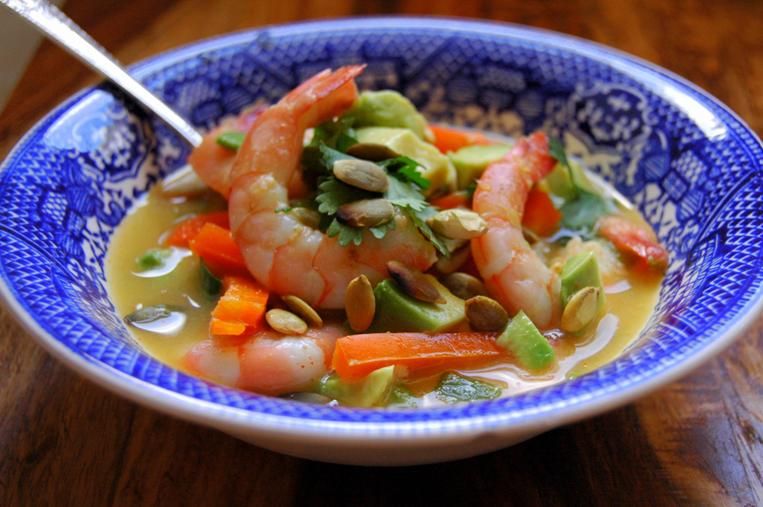 Orange Gazpacho with Cumin Shrimp & Avocado
Not to be dramatic, but this gazpacho inspires me to be a better person.
Okay, so fine. That was a bit dramatic. But one taste of this delicious-ness and you'll know what I mean.
This gazpacho is so many things I aspire to be – fresh, simple, vibrant, and perky. And to boot, it's extremely easy to prepare; combining a few simple ingredients to utilize their individual tastes and textures. Think crispy. Creamy. Meaty. Fragrant. Bright. Anything with shrimp is just perfect in my book, but if you're a seafood-hater, you could easily replace the shrimp with chicken (as long as you adjust the baking time accordingly).
And seriously, you may want to double this recipe. Leftovers are divine.


You will need:
– 1 ½ pounds wild-caught shrimp, raw and de-shelled (I like to keep the tails on for presentation)
– 3 teaspoons cumin
– Sea salt
– 2 ½ cups high-quality orange juice
– 1-2 bell peppers, de-seeded and sliced into matchsticks
– ½ cup cilantro, minced
– ½ cup of green onions, diced finely
– 1 avocado, diced into cubes
– ¼ teaspoon cayenne pepper
– 2 tablespoons of lime (or lemon) juice
– ¼ cup pumpkin seeds, toasted
Step One: After de-shelling the shrimp, spread them out in a single layer on a baking sheet. Then, sprinkle them with the cumin and a few good pinches of sea salt. Broil on high until the shrimp turn pink. Give 'em a quick move around with a wooden spoon and broil the other side until pink as well. (Non-Seafood Option: Rub a pound of chicken with olive oil, then sprinkle with cumin and salt. Bake at 350 degrees until cooked completely through.)
Step Two: While the shrimp are broiling, mix together the orange juice, bell pepper, green onions, cilantro, avocado, cayenne, and lime juice in a large bowl.
Step Three: Once the shrimp are thoroughly cooked, remove them from the oven and toss them into the orange juice mixture. Cover the bowl and refrigerate for 2(ish) hours or until chilled.
Step Four: To serve, dish up into your prettiest bowls, ensuring each guests gets a little bit of shrimp, a little bit of avocado, and some delicious pepper. Top each bowl with a generous sprinkling of toasted pumpkin seeds. Don't skip the pumpkin seeds – trust me, you'll love them.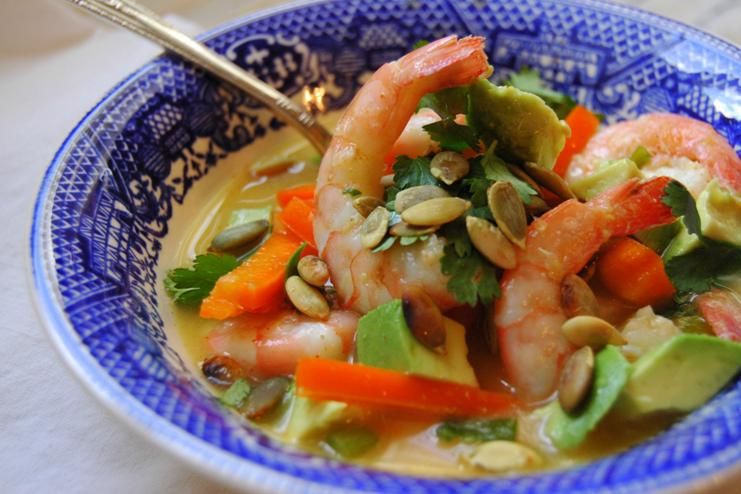 And that's it! How easy was that?!
I serve our gazpacho with a slow-cooked curried brown rice. The rice works perfect for soaking up the extra juice left at the bottom of the bowl. Yum!
The only problem my family has with this dish is the shrimp. It's a battle over who gets the most, and usually, Georgia wins. She loves her some seafood.
As do I, of course.
It seems then, quite fitting, that I arrive in Fairhope on opening day of Brown Shrimp season.
I'll mail you some. Then you can enjoy this delicious gazpacho as soon as humanly possible.
Cheers!
For other great meal ideas, no matter what your dietary restrictions, check out the meal planning service I use: Real Plans.
DISCLOSURE: In order for me to support my blogging activities, I may receive monetary compensation or other types of remuneration for my endorsement, recommendation, testimonial and/or link to any products or services from this blog. I appreciate the support and love y'all have shown this 'ol blog and will only recommend products that I use, love, or covet. The end.