I have made something wonderful.
It was fluffy, light, and slightly sweet…like a simple slice of heaven for the mouth. And though the recipe was for an "Almond Cake," in reality, I felt the texture of it more like a muffin. But regardless of what dessert category it falls into, it is a dainty little cake perfect alongside an afternoon cup of tea. Or, alternatively, would be a wonderful contribution to a brunch of sorts.
And it's healthy, too.
Believe me.
I was inspired to make this 'cake' after a friend of mine gifted me with a five gallon bucket of local walnuts. Oh, lawdy! How wonderful! I love my friends. They rock my world.
I gave myself blisters shelling them all. And that's a true story. After Georgia went to bed, I sat down in the living room with a wooden cutting board, bowl, and hammer and got to work. Even though it took me two nights and ten episodes of 'Psych' to get them all shelled, what a reward it was in the end to have two gallons of soaked, dehydrated, and frozen walnuts for the winter! Oh, la la.
All that to say, I wanted a dessert that had walnuts. So I made one. Booya.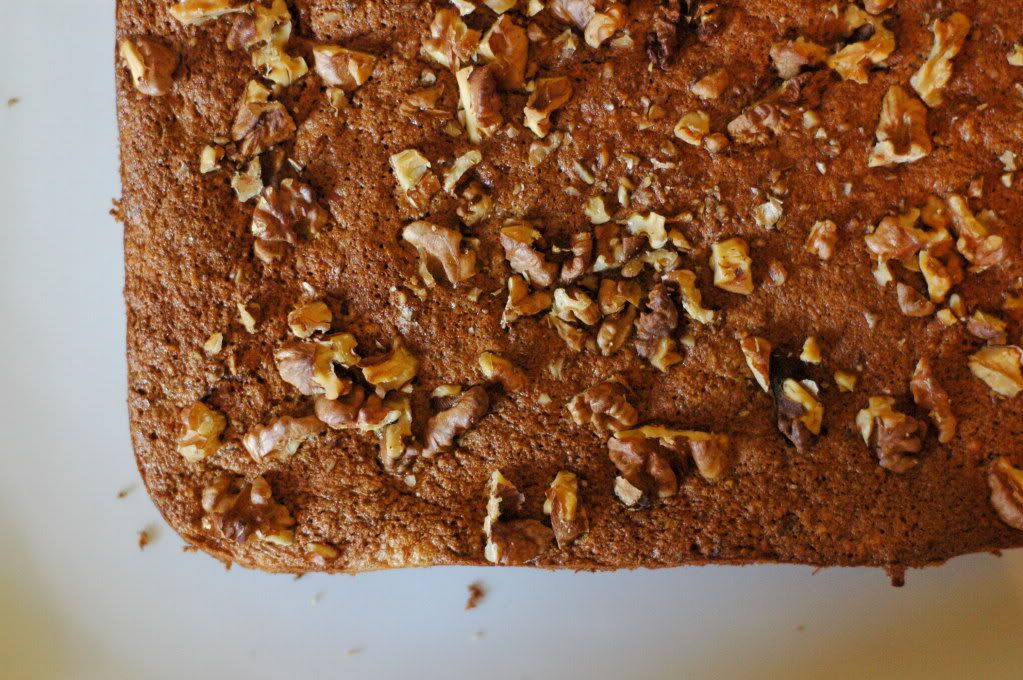 Almond Cake
Original Recipe from Nourishing Traditions
You will need:
– 4 egg yolks, at room temperature – the best eggs you can find!
– 1/2 cup rapadura (or natural sweetener of choice)
– Zest of one organic lemon
– 1 teaspoon organic almond extract
– 1 cup grated carrots
– 1 cup almonds, processed into a coarse meal (I used my food processor for this!)
– 1 tablespoon arrowroot (In a pinch, you could substitute corn starch).
– 1/2 teaspoon sea salt
– 4 egg whites, at room temperature
– 4 tablespoons walnuts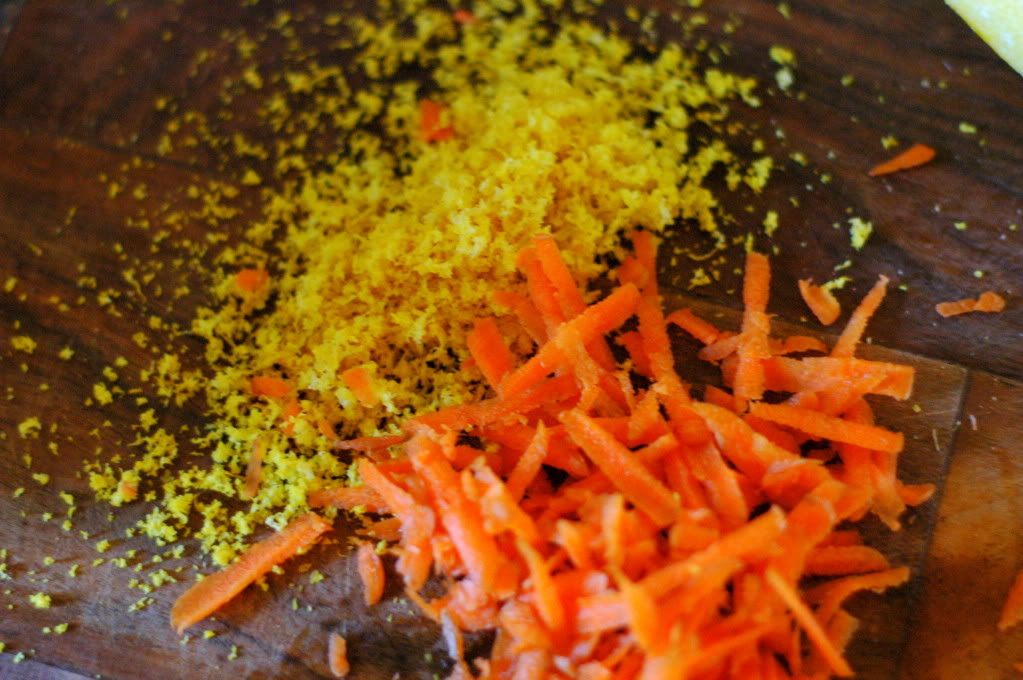 Step One: Preheat your oven to 350 degrees. Then, generously butter and flour your cake pan of choice (9 inch square pan would be perfect!). Beat the egg yolks and rapadura together in a mixer for a few minutes, then add in the lemon zest, almond extract, carrots, ground almonds, arrowroot and sea salt.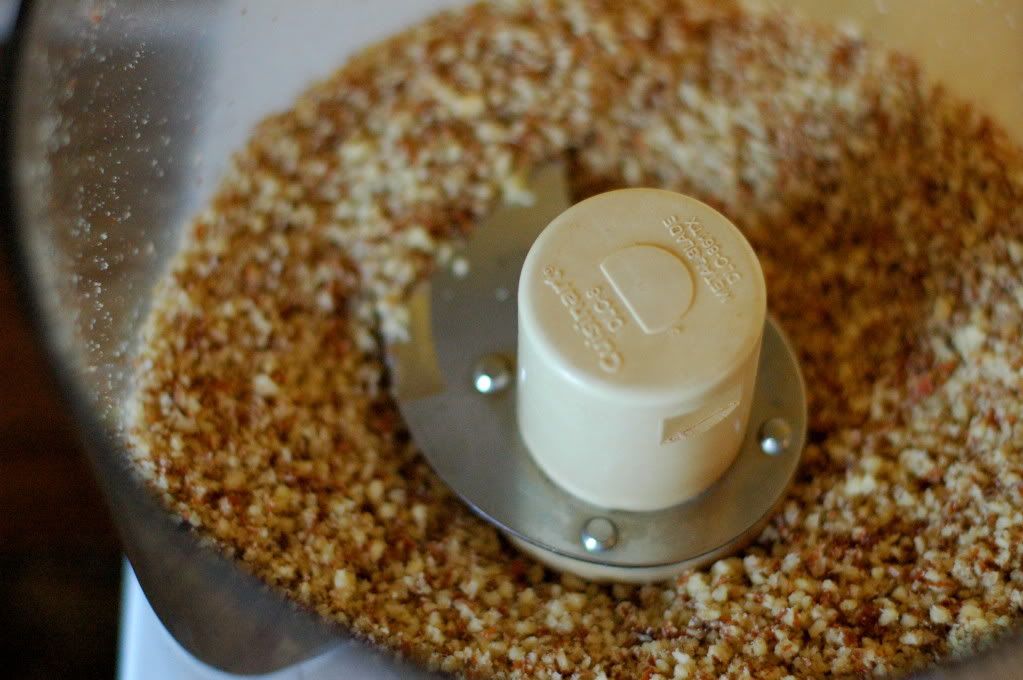 Step Two: In a separate, clean bowl, beat together the egg whites and a small pinch of sea salt until stiff.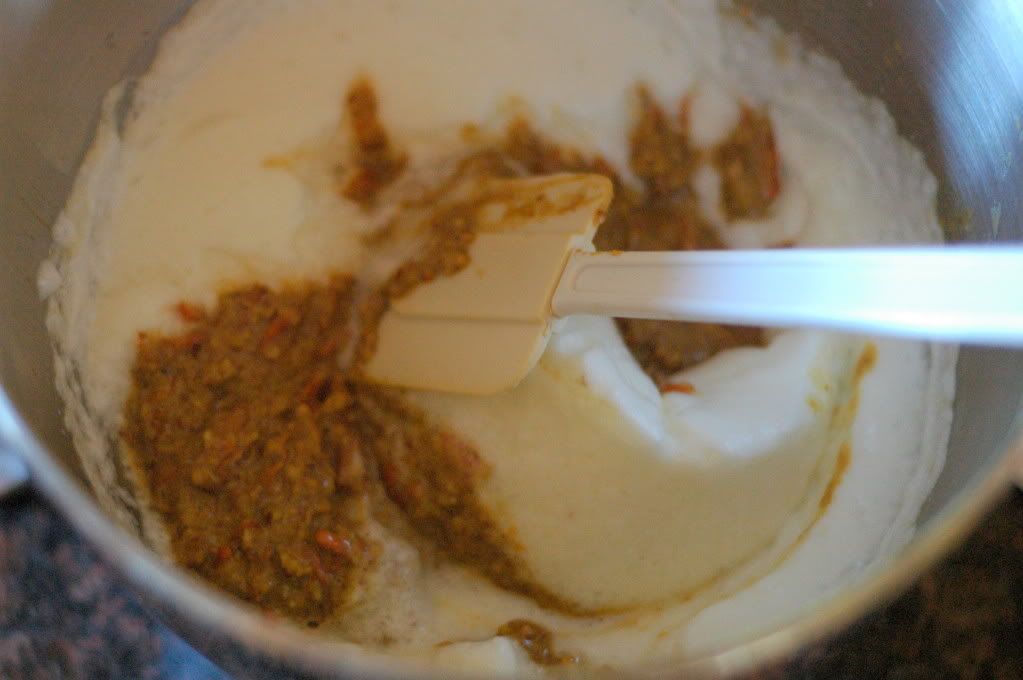 Step Three: Gently fold the egg whites into the almond mixture. Fold, people. Gently fold. Don't mix. Fold.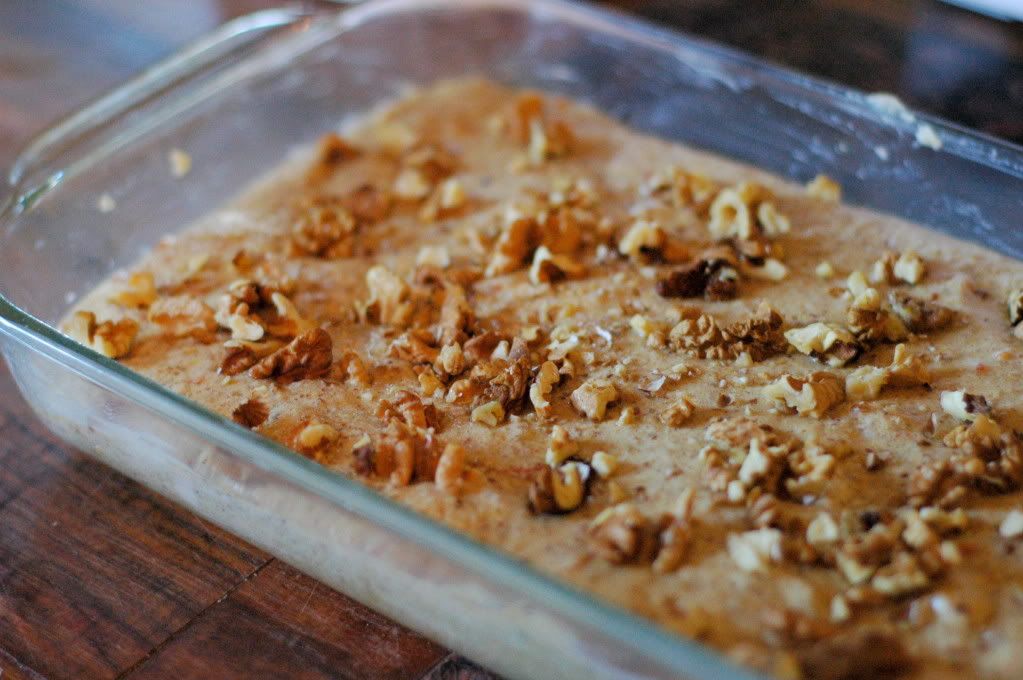 Step Four: Pour into your buttered/floured cake pan. Sprinkle your chopped walnuts on top of the cake and bake for about 45 minutes, until nice and golden. Once it's cooled, you can remove it from the pan, and eat to your hearts content.
Isn't that dainty and pretty? It's delicious, too! And gluten-free (for readers like my dear friend Lyda!)
There's another bonus to this cake: it's so versatile. Top it with your favorite homemade frosting recipe, or add in some delicious frozen berries. Top with pine nuts or toasted almonds instead of walnuts. Or chocolate chips! Oh yummy! Mix in some fresh ginger, cinnamon, or vanilla. It's a wonderful, basic cake that can easily be changed to fit your current craving.
Mine was for walnuts. So, I included walnuts.
G-love adored this cake. I'm sure she must've eaten about four pieces yesterday, but because it was full of high quality fats and natural goodness, I let her have at it!
Isn't real food just wonderful!? I mean, isn't it just incredible!


Okay. I promise to take it back a few notches.
But make this cake. And I'm sure you'll secretly share in my enthusiasm.
Good day.
For other great meal ideas, no matter what your dietary restrictions, check out the meal planning service I use: Real Plans.
DISCLOSURE: In order for me to support my blogging activities, I may receive monetary compensation or other types of remuneration for my endorsement, recommendation, testimonial and/or link to any products or services from this blog. I appreciate the support and love y'all have shown this 'ol blog and will only recommend products that I use, love, or covet. The end.