Well here's a new concoction.
Say what?!
That's right.  Eggshell water.  Fresh eggshells from free-ranging, local hens (I wouldn't use conventional store-bought eggs for this) crushed and steeped in hot, nearly boiling, water.
Stuart says the idea of it grosses him out, but then I reminded him of what's in 'convenience' food. It's all perspective, people.  With a lot of conventional, store-bought food in America, it seems that ignorance is bliss.  As long as the consumer doesn't know what's actually in it, they don't care (hello, pepperoni).  Well, I love you Stuart, but I'm going to put this in your smoothie anyway.
But why eggshell water?
For the same reason we eat all food – nourishment to our bodies!
Egg shells/egg membranes are rich in calcium and minerals.  Steeping them in water leeches the minerals and calcium out of the shells and into the water.  Pretty simple.  This water aids in the building of strong bones.  It aids in the relief of bone pain, joint pain, and inflammation.  It's even been found beneficial in preventing and easing arthritis! 
Here's the step-by-step:
1.  Wash the remaining egg residue out of eight, fresh eggshells.  Just some warm water and a bit of rubbing from your fingers should remove the remaining egg white.  Make sure to leave the membrane in the egg shell – that's where the nourishment comes from!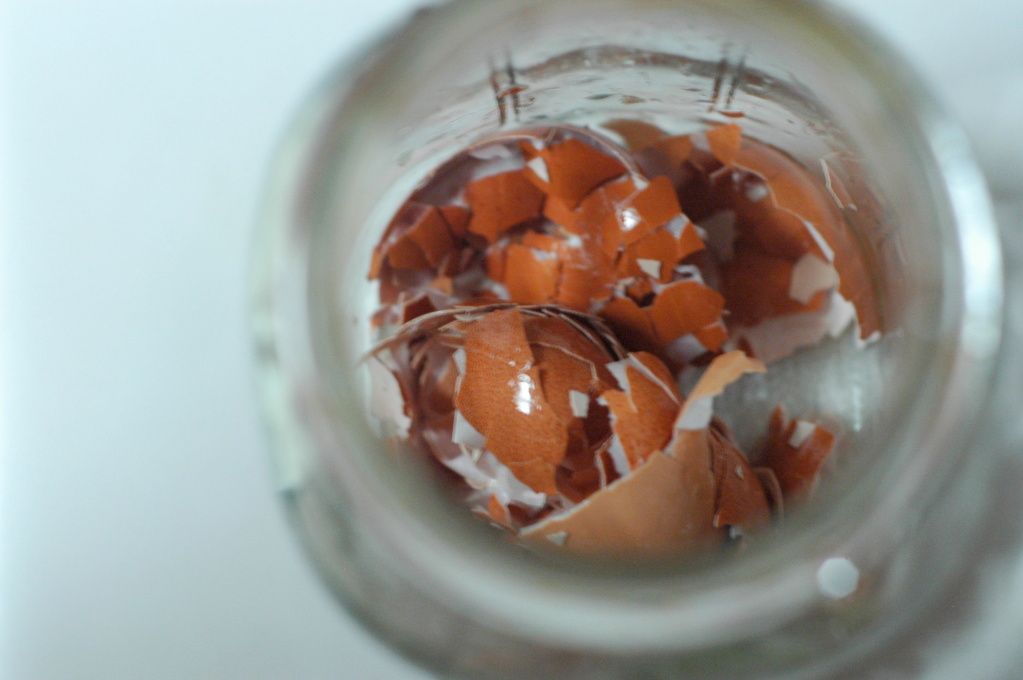 3.  Cover with four cups of nearly boiling, filtered water.  You may also add a teaspoon of vinegar or lemon juice at this stage.
4.  Allow to cool on your counter.  Strain out the eggshells and discard.  Store the water in your refrigerator, sipping on it in small amounts. 
A good way to take the eggshell water would be to just pour a tablespoon or so of it in your glass of water throughout the day.  It doesn't taste like anything, so it won't ruin whatever your drinking.  This makes it very easy to add to smoothies, iced chai teas, milk, juice, kombucha, water, etc.  I've been taking it with water, aloe vera, and elderberry syrup.  It's actually quite a wonderful combination.
As with all calcium supplements, it's important to not take too much at once.  Our bodies are only capable of absorbing calcium in small doses, so sipping on this is much more effective than gulping an 8 oz. glass of it.  Don't do that. 
As I was researching the eating of eggshells, I found that it is still common practice in Norway for folks to grind the eggshells up with their coffee beans and steep them both together for a little extra morning calcium boost in their coffee.  Now there's an idea!  Plus, egg shells apparently take some of the acid out of the coffee – making it more palatable.
It turns out, there are two popular ways to utilize the nutrients from the eggshell.  The first involves steeping the eggshells in hot water, like we've done (or another option would be to add them to your homemade chicken stock while it simmers – same idea).  The second involves washing out the eggshell, allowing it to dry for a day on the counter, and then grinding it in a coffee grinder or spice grinder until it's a fine powder.  This powder can then be added to smoothies or oatmeal or what-have-you.   This would be another easy way to make your own free calcium and mineral supplement!  Booya!
I'm hoping that by taking this water regularly, it will help to relieve some of the aches and pains that pregnancy brings.  After all, there is more weight bearing down on those 'ol bones these days.
Plus, I love the fact that it utilizes something we would normally deem as "waste" and turns it into something wonderful and nourishing for our weary bodies.
DISCLOSURE: In order for me to support my blogging activities, I may receive monetary compensation or other types of remuneration for my endorsement, recommendation, testimonial and/or link to any products or services from this blog. I appreciate the support and love y'all have shown this 'ol blog and will only recommend products that I use, love, or covet. The end.