I have to tell you something.
It is Christmas Eve.
And I love you.
Okay fine, that was two things.
But here we are anticipating yet another beautiful Christmas day together, my friends. This is our third Christmas together as blogger and reader, in case you were wondering. And each year, I love you more. You are all such a blessing to me – with your words of encouragement, prayers, and every day humor. I hope you know that I appreciate you – every email, every comment, every interaction that we get to have together throughout the year. I am so grateful for it.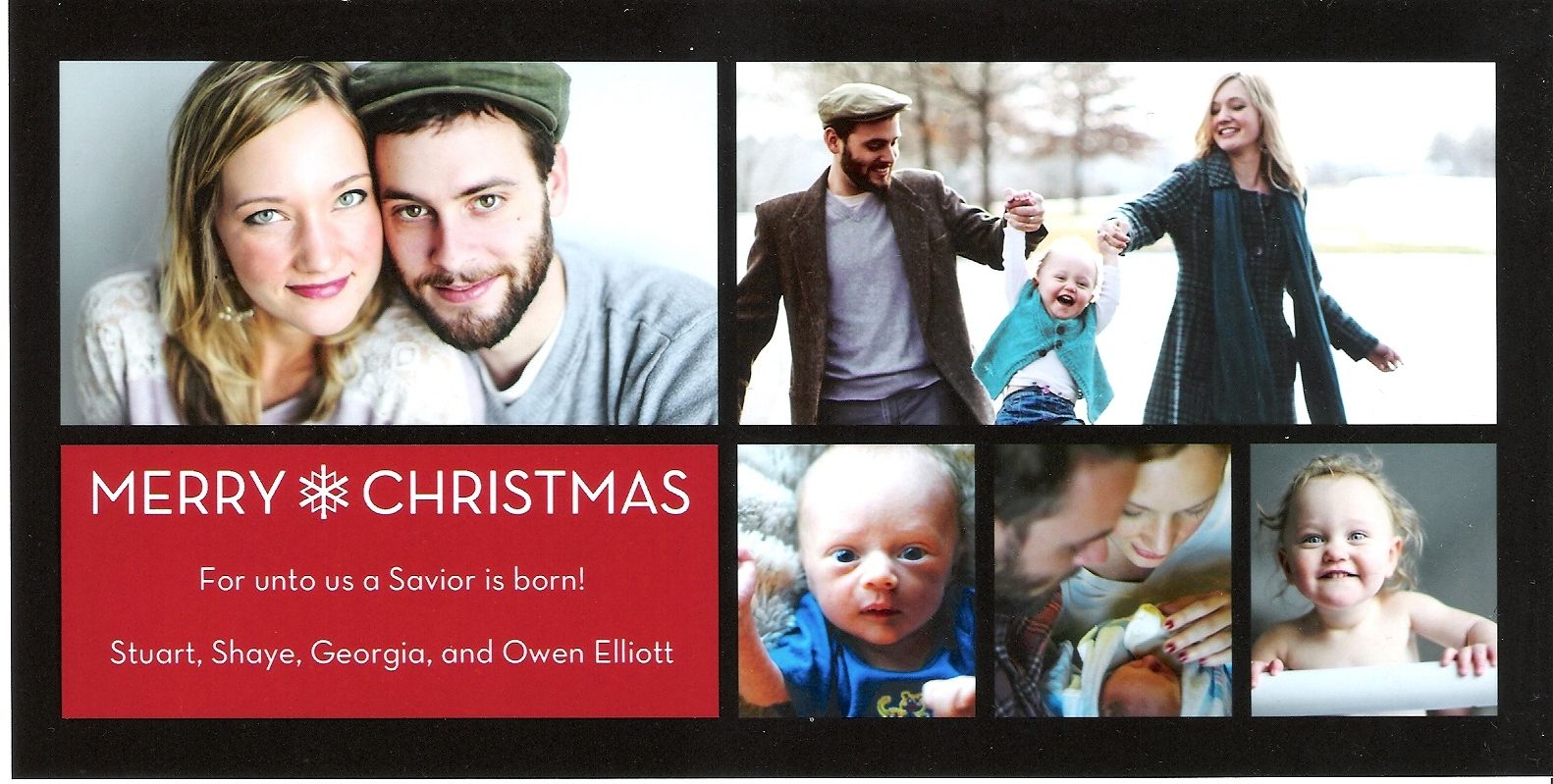 And if I could mail each and every one of you one of our Christmas cards, I would. Truly. Just pretend like this virtual copy appeared in your mailbox, okay?
Naturally, during the Advent season, we focus on the gift that was given to us in the Lord Jesus Christ. A gift that I am so thankful for, I literally do not possess the words to express it. What better blessing could there possibly be? We were dead in sin and yet in His love for us, He orchestrated a perfect plan of redemption through the birth, life, and death of His beloved Son.
That, my friends, is a reason to celebrate. And celebrate we will!
Today we will be lounging at home, enjoying homemade creamy potato soup & bread, before attending the Christmas Eve service at church.
Tomorrow, we will be enjoying a quiet Christmas morning at home – just the four of us. Bacon souffle and freshly baked monkey-bread muffins (soaked & whole wheat, of course!) are on the menu for breakfast, soon to be followed by a delicious Kerrygold Cheese Platter, fruit & veggie trays, an assortment of homemade pickled vegetables, local sausage, and fresh bread with a goat cheese & fig preserve topping for lunch. Dinner will be a local roasted chicken, pecan-encrusted sweet potato souffle, steamed artichokes with garlic butter, creamed collard greens and eggnog.
Ya. It's going to be pretty delicious.
Our cup is overflowing with blessings!
And just in case you need a little more 'delicious' on your Christmas day, whip up this simple & whole-food based eggnog. Ready in two minutes and free of all the additives that store-bought eggnog boasts. You'll thank me. So will your family. And anyone else you choose to share it with (though they may have to pry it out of your fingers to get you to share!)
Nourishing Egg Nog

2 cups organic cream (not ultra-pasteurized, from grass-fed cows is best!)
2 cups whole raw milk
4 tablespoons real maple syrup or honey
1 1/2 tablespoons real vanilla extract
1 1/2 teaspoons cinnamon
1/8 teaspoon freshly grated nutmeg
1/8 teaspoon ground cloves
1/8 teaspoon ground all-spice
8 egg yolks from pastured chickens (the very best quality eggs you can find!)
Whip it up in a blender or mixer until combined. Serve chilled or warm. Either way, it will blow your mind. And your waistline. But that's not important at the moment.
Praying you and yours have a wonderful and blessed Christmas
For other great meal ideas, no matter what your dietary restrictions, check out the meal planning service I use: Real Plans.
If you like it, Share it!