I'm so excited to be back in the saddle.
Back in the food saddle, that is.
My new kitchen is officially set up (well, as best as it can be) and I'm open for business.
I feel like I haven't really "cooked" since becoming pregnant. You remember the post-flu diet I lived on for months – scrambled eggs, peanut butter toast, etc. And after the first-trimester-nausea-diet, it was time to back up the kitchen, sell off our food, and hit the road Jack.
Needless to say, now that the nausea and moving have passed – I'm plum happy to be right back where I belong.
Kombucha is brewing. Chicken stock is simmering. Bread, granola, & biscuits will follow along tomorrow morning. Two pounds of freshly picked blueberries are making their home in my fridge and I'm eagerly anticipating the bounty of cooking goodness a trip to the local farmer's market will bring about. Slowly, but surely, things are shapin' up.
That was a long and winded intro to let you know that I have a fantastic new recipe for you. It was ready in 15 minutes from start to finish – and it was absolutely delicious. Ask Jeremy or Stuart. They'll both agree.
I love that food tastes good again.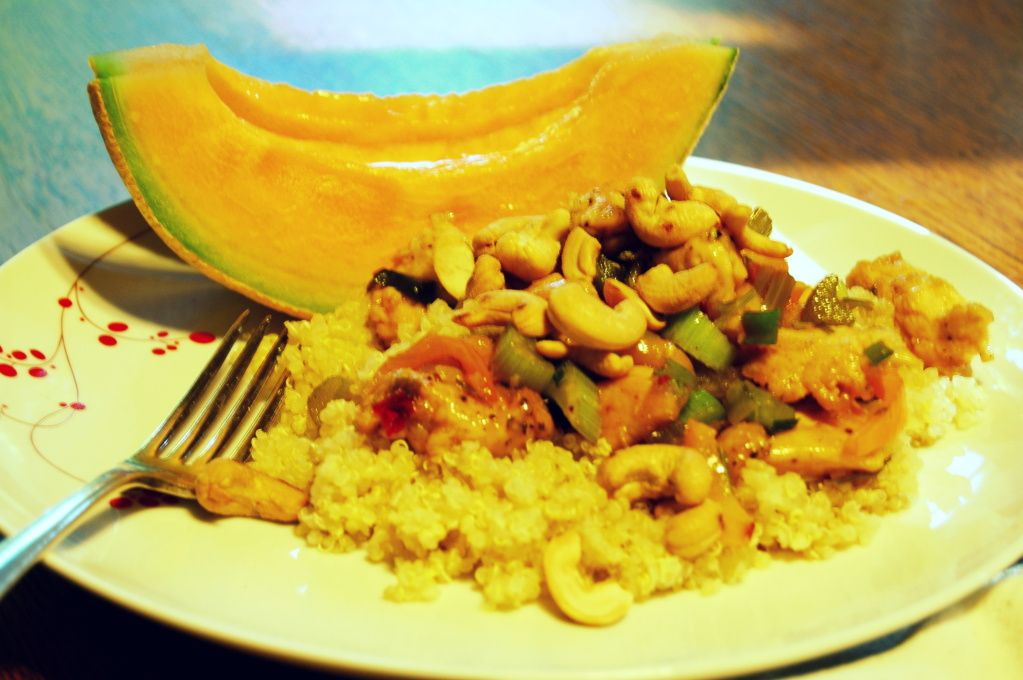 Honey Cashew Chicken
You will need: 
 – 2 tablespoons olive oil
 – 1 tablespoon dark sesame oil
 – 2 chicken breasts (or chicken pieces of choice), diced into bite sized pieces (pastured chicken is best!)
 – 2 tablespoons arrowroot flour (or corn or potato starch)
 – 3/4 teaspoon salt
 – 1/2 teaspoon freshly ground black pepper
 – 4 cups diced veggies (I used celery and bell pepper)
 – 3 cloves minced garlic
 – 1 bunch green onions, chopped or 1 medium onion, diced
 – 1/2 cup slightly toasted cashews
For the sauce:
 – 6 tablespoons honey 
 – 4 tablespoons organic soy sauce (check those ingredients!)
 – 2 tablespoons rice vinegar
 – 1 dried chili, minced or a small pinch of red pepper flakes
 – 1/2 teaspoon sesame oil
Step One: Heat the olive oil in a skillet. While that's warming, toss the chicken bites, arrowroot flour, salt, and pepper together in a bowl to coat. Then, toss it into the oil until just cooked through. Then, add in the sesame oil. *At this point, it's a good time to start cooking a quinoa or rice to serve the chicken with.
Step Two: After the chicken is cooked and slightly browned, add in the diced veggies, garlic, green onions, and cashews. Allow them to soften slightly (I don't like 'em mushy, so I usually only let them cook for 2-4 minutes). While the veggies are softening, mix together the sauce…
Step Three: …which just happens to be Step 3. Mix together all the sauce ingredients, whisk, and pour over the veggie/chicken mixture.
Booya. That's it, baby.
I served our honey cashew chicken atop a lovely pile of quinoa. It cooks up just like rice and offers all sorts of great minerals and protein, but by all means, serve the chicken atop rice if you'd like.
Unfortunately, this is the best picture I have to show you for all that deliciousness because frankly, I was starving, and I didn't take the proper time I should have to stage the photo. Such is life.
My belly was happy though.
And we all know how important that is.
So much more to share with you dear readers…I can hardly wait until tomorrow!
For other great meal ideas, no matter what your dietary restrictions, check out the meal planning service I use: Real Plans.
If you like it, Share it!