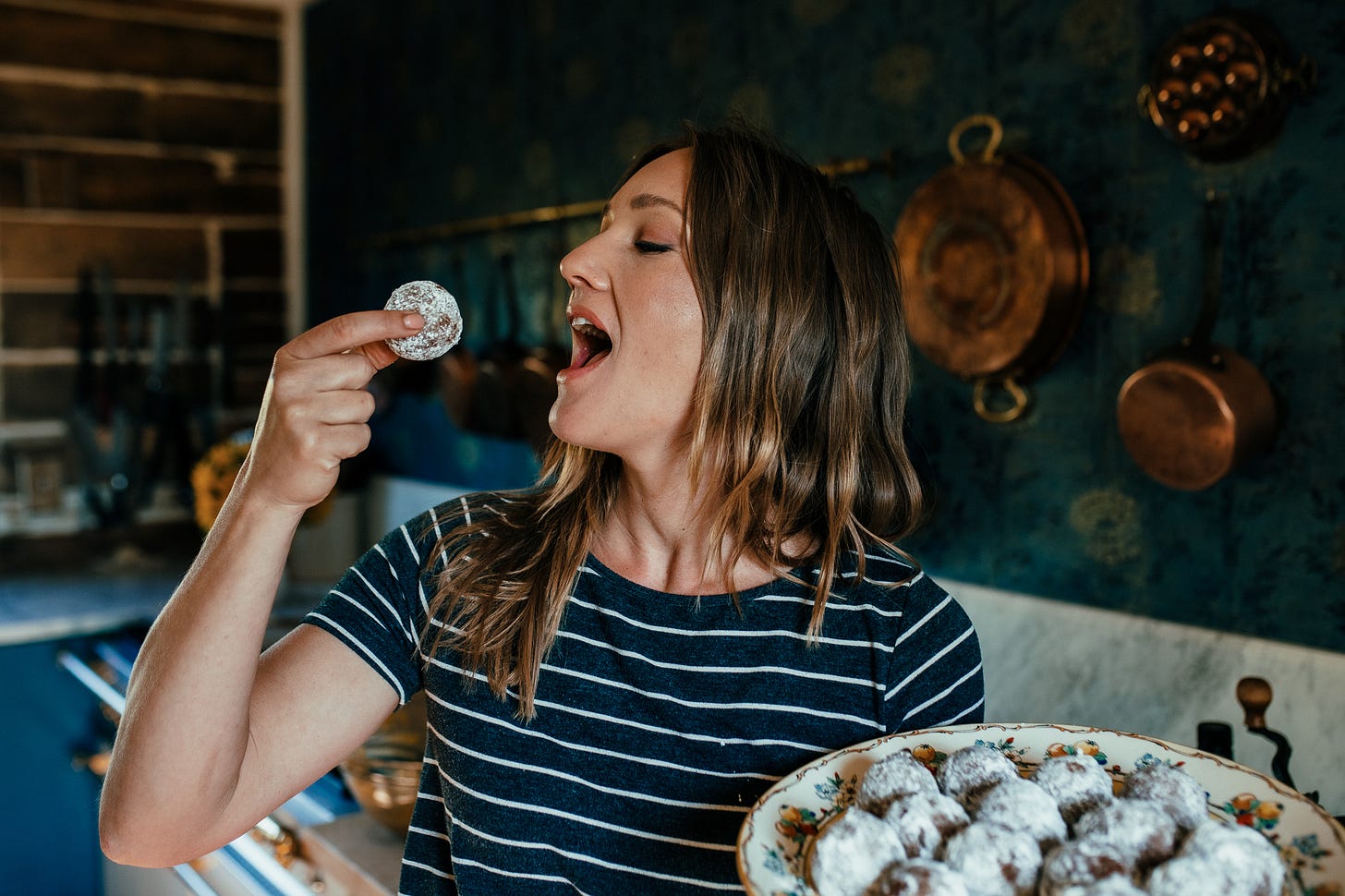 It's very rare that I post a recipe not my own, but some things are too good to not be shared and some recipes so perfect, there's simply no way to improve them. Meet Melissa's donuts – which are all that and more.
Melissa Muller made these donuts for my friend Dolores and I while we were visiting her in Sicily last summer. She brought them out after we'd already devoured a huge helping of eggplant and tomato studded pasta, an encore of donuts sounding heavy and unnecessary.
Oh Shaye… you silly child.
These donuts are wonderfully light and positively delight the palette. Let me first, perhaps, confess that I'm not much of a standard American donut sort of a girl (I bet you couldn't have guessed that). I find them overly sweet and lacking in anything worthwhile.
These bad boys are much different: fried in healthy fats, packed to the gills with protein, made with an heirloom flour (I use einkorn), and sweetened with a natural sweetener. It's allllll the good stuff. And they taste amazing.
If you're not milking the cow yourself, or making the ricotta yourself, they take five minutes to make and can be whipped up rather quickly for unexpected guests.
Naturally, source the best ricotta you can find and strain it if it's too watery (good ricotta should be fairly thick, like a Greek yogurt). Or… you could always find a dairy cow, learn to milk it, and really have some fun with it.
Up to you.
Ricotta Donuts
For the donuts
2 cups flour
6 eggs
½ cup sugar
1 ½ pounds ricotta
4 teaspoons baking soda
½ teaspoon sea salt
1 teaspoon vanilla
2-3 cups lard, tallow, or duck fat, for frying
½ cup powdered sugar, for serving
Combine all of the donut ingredients together in a large bowl. Use a whisk or hand mixer to combine the mixture until it is very smooth. Chill until needed.
In a deep, Dutch oven heat the lard or tallow. Bring the fat up to 375 degrees.
Use a spoon to scoop up a few tablespoons of the donut dough and drop it into the hot oil. Repeat until you've added about 8 donuts or so. Allow the donuts to cook in the oil until they're a deep brown. Remove and let cool slightly on a paper-towel lined plate. Roll the donuts, while they're still warm, in a plate of sugar if desired. Repeat with the remaining dough.
Toss in powdered sugar and serve fresh.
Enjoy!
Shaye
If you like it, Share it!