Hello my friends,
As I was bent over the tomato plants, sweating in the insulting September heat, I reminded myself as I picked tomato after tomato to give thanks for the harvest at hand. I kept thinking "One doesn't look a gift horse in the mouth – and a gardener and home cook doesn't complain about too many tomatoes." 
Thank you, Lord, for this HARVEST!
The San Marzano seeds we planted this year were a great choice for our gardens. And I'm not sure I should confess this, but I like the flavor slightly more than the Roma tomatoes that are also growing there. The thick skin on these tomatoes makes them much hardier than many tomato varieties, which is ideal when you don't want to pick every day. These tomatoes hold well in the garden, even while perfectly ripe, for days on end with no splitting or leaking.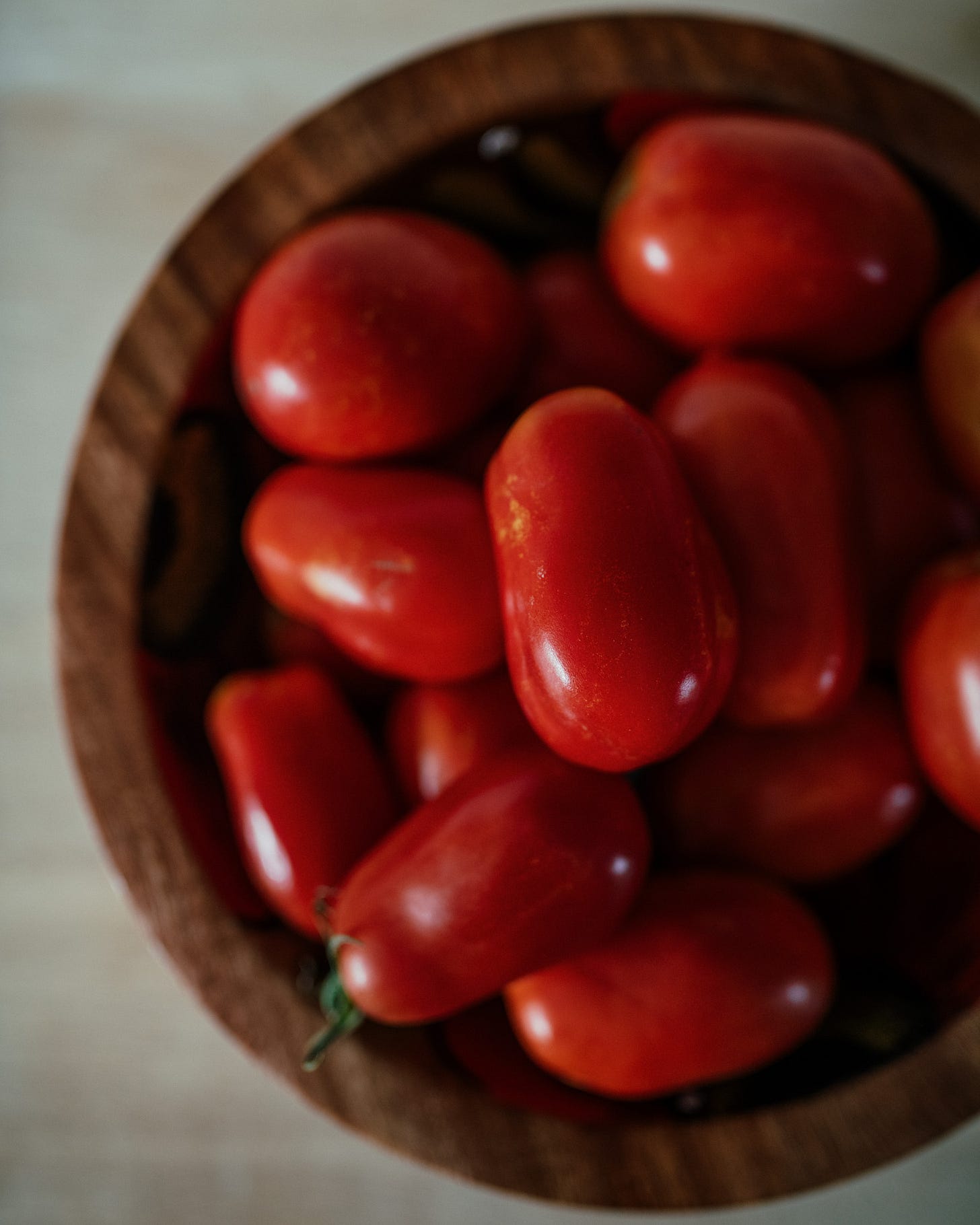 After giving thanks, and patting myself on the back for finally jumping on the San Marzano band wagon, I'm still faced with the reality that not only are we starting up year 8 of homeschool this week, but now I also must deal with the 103 pounds of tomatoes that came out of the garden on Saturday. Just. Saturday.
It's a delicious problem to have really – especially for a Pacific Northwestern American who has an above-average obsession with Italian flavors. If I can pull it together between math lessons, I'll put this 103 pounds of tomatoes to work for my winter kitchen in a variety of ways.
One of those ways is boatloads of tomato passata, which we made together last week.
And another is the first of our "Make Your Own" series on YouTube (if you don't subscribe to us there, would you please consider doing so?)…. sun-dried tomatoes.
(Even though we're drying the tomatoes in the oven, I'm going to continue calling them sun-dried tomatoes because oven-dried tomatoes sounds a bit silly, thank you.)
Here's the recipe. Enjoy!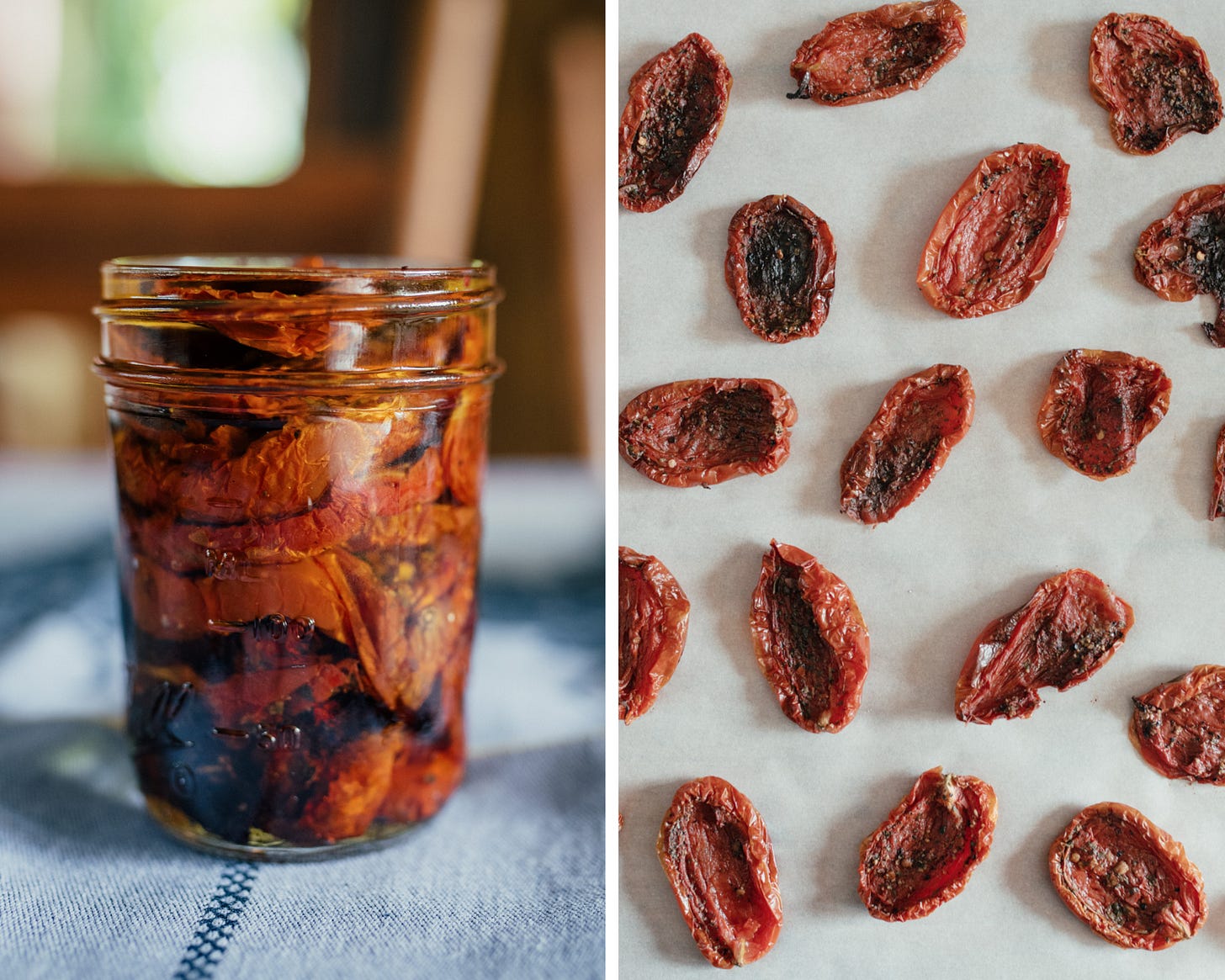 Sun-dried Tomatoes
Note: The amount of tomatoes you put onto the tray will affect the drying time as more moisture is released from more tomatoes. Keep an eye on the tomatoes and pull one out every hour to assess the drying process. When in doubt, error on the side of slightly over drying the tomatoes versus under drying them.
5-8 pounds tomatoes (sauce tomatoes work well here)
1 tablespoon seasoning of choice (I'm using Bona Furtuna's Cacio e Pepe blend)
Large pinch sea salt
Olive oil, as needed
Preheat the oven to 250 degrees. Line two baking trays with parchment paper.
Cut the tomatoes in half. Use your thumb to press out the seeds into a bowl.
Place the tomato halves on the baking trays in a single layer. Sprinkle the seasoning over top of the tomatoes, along with sea salt to taste.
Dry the tomatoes in the oven for 3.5-5 hours, or until pliable and slightly leathery feeling. Rotate partway through the drying process if needed.
Enjoy making your own sun-dried tomatoes! Look at your go! Don't forget – if you'd like to learn more from-scratch recipes and boost your confidence in prepare whole-food dishes, you can join The Elliott Homestead Cooking Community right here.
Off to make passata,
Shaye
If you like it, Share it!