Yesterday was a rough day on the homestead. I had to leave church about thirty seven times with a disobedient toddler (ahem, no names, Georgia, ahem) and thus, heard approximately 2.17 minutes of the sermon. Dang, man.
I came home, expecting the nap to cure the bad attitude, but alas, it did not. Post-nap Georgia was just as fussy as pre-nap Georgia. Dang again, man.
Oh well. I suppose we all have our days, don't we? It doesn't help that I tend to be overemotional this *time of the month* if you catch my drift.
Sorry. Too much information?
Regardless.
Dinner last night was super simple and straight forward. A healing, five-minute soup that heals and nourishes in all it's goodness. And because I spent most of the afternoon at my sisters in an attempt to give Georgia some good distractions (other young kiddos work wonders!), this was the perfect meal to throw together last minute.
Coconut Chicken Soup
You will need:
– 2 quarts of homemade chicken stock (I always keep this in the fridge for such situations)
– Juice of two lemons
– 2 cans of coconut milk (full fat!)
– 1 teaspoon freshly grated ginger
– 4 tablespoons
rapadura
or
honey
(optional)
– 1 to 2 cups of cooked chicken (optional) – I left this out this time
– Fish sauce or
salt
, to taste
– 1/4 cup cilantro, chopped
Step One: Heat the broth up in a pot. Skim any floaties off the top. Add in the coconut milk, rapadura or honey, ginger, chicken (if you're using it), lemon juice, and red pepper flakes. Simmer for fifteen minutes.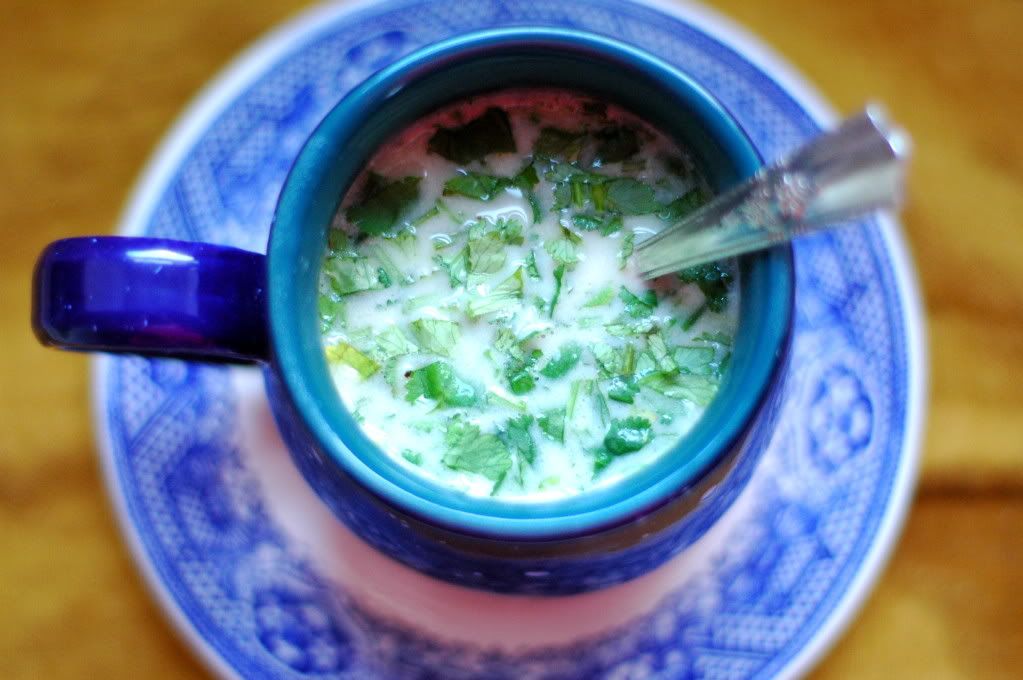 Step Two: Scoop into a bowl (or mug!) and top off the broth with the cilantro and green onion. And whatever other toppings your little heart desires. Avocado, chicken meat, or rice noodles would be a wonderful way to add more substance.
That's it. Five minutes. Curious George was able to distract G-love for me.
I cooked up some brown basmati rice and buttered beans to enjoy alongside the soup – super simple, super delicious. Even Georgia enjoyed sipping on this broth – I love knowing she's drinking in all those wonderful minerals!
If you haven't discovered the wonderful health benefits of drinking homemade stock, as always, might I suggest you get on that bandwagon? Especially in this sick-ly time of year, sipping on some fresh stock will help to cure what ails you.
If if what ails you is a fussy child.
The end.
For other great meal ideas, no matter what your dietary restrictions, check out the meal planning service I use: Real Plans.
If you like it, Share it!