As we continually get busier and busier with "life", IE:
1. Teaching a teenage bible study
2. Preparing the beds for spring
3. Planting and caring for seeds
4. Sending in teaching applications for next year
5. Work
6. Play
…and everything in between, my kitchen time has become far less experimental and much more structural. For example, I know that to meet our crusty, delicious bread demand I need two loaves per week and thus, have scheduled to make it accordingly. I also know that to meet our snack and lunch demand, I need to have premade goodies prepared. I need homemade larabars.
There is a reason people grab for chips, fruit snacks, and candy bars. They're convenient.
Today, I want to share a recipe with you that easily met our "snack" demand for two full weeks. Having pre-made snacks is essential to not falling off the whole-food bandwagon. You simply have to have the options available when time is of the essence!
And the best part? It took me (literally) fifteen minutes. Fifteen minutes from pulling the ingredients out to finishing up the last of the dishes. I swear.
And the second best part? I made these for less than 20% of the retail cost.
Oh yea, baby. It's all about the homemade larabars.
These three varieties were my favorite:
Homemade Larabars
Coconut Cream Larabars
You will need: 
 – 1 cup almonds (or any nut of your choice)
 – 1 cup pitted dates
 – 1 cup shredded, unsweetened coconut
 – 1 teaspoon coconut oil
Chocolate Larabars
You will need: 
 – 1 cup of almonds (or other nut)
 – 1 cup pitted dates
 – 4 tablespoons cocoa powder
 – 2 tablespoons cacoa chips or chocolate chips, optional
Peanut Butter & Jelly Larabars
You will need: 
 – 1 cup of roasted peanuts
 – 1 cup pitted dates
 – 1/2 cup dried cherries
To make, all you have to do is throw the nuts in your blender until they're a nice, fine texture. Then, throw in the dates and remaining ingredients. Blend until well combined. If it doesn't stick together when you pinch the mixture in between your fingers, add a few more dates to help make it more "sticky".
Once it's all chopped up, simply press the mixture down into a pan (I lined mine with parchment paper for easy removal).  Stick in the fridge for a few minutes to help it set, remove, and slice or shape into bars.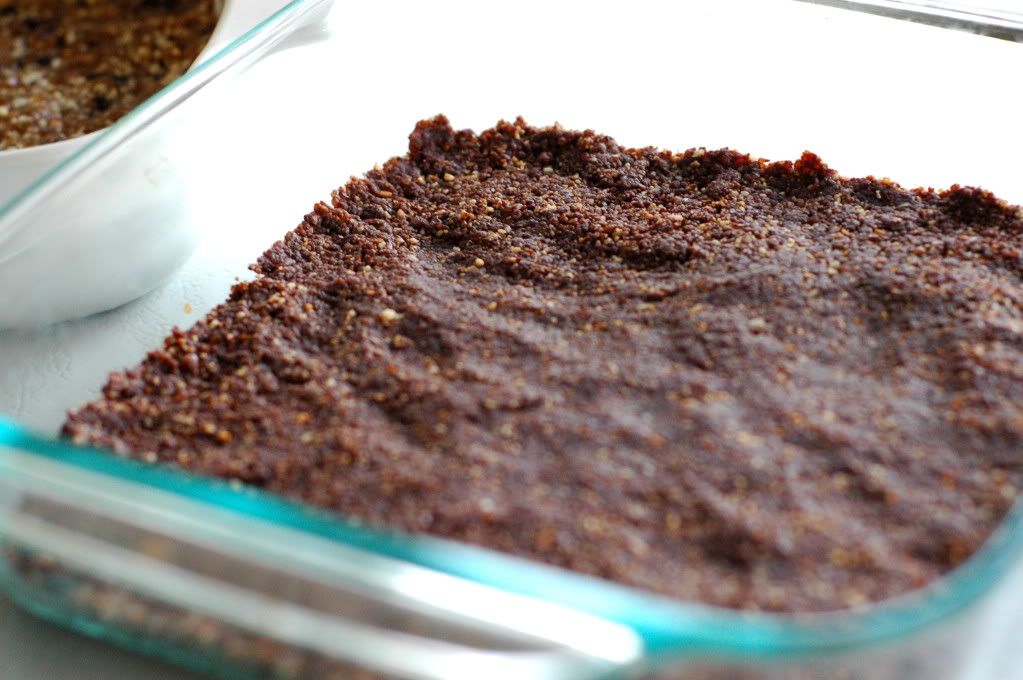 The possibilities of nuts and flavorings are endless. You can easily sub in dried cherries, dried mango, dried banana, peanut butter, etc. It's just a matter of finding your family's favorite flavor of homemade larabar!
And did I mention they are very inexpensive compared to their commercial-sold twin? Larabars usually sell for $2 a piece, people! Yikes!
The only super important part of this recipe is adhering to the correct ratio: 1 cup nut to 1 cup date to 1/2-1 cup "extra". And like I said, if it's not sticking together correctly, throw in a few more dates and you'll be good to go.
Some fancy people individually wrap homemade larabars in wax paper and tie them in twine. Oh-so-lovely but oh-so-time consuming. I was on a mission, and thus, I sliced mine into bars and shoved them into a big tupperware bound for the fridge. When we're packing our lunches, we simply grab a bar out. Easy peasy.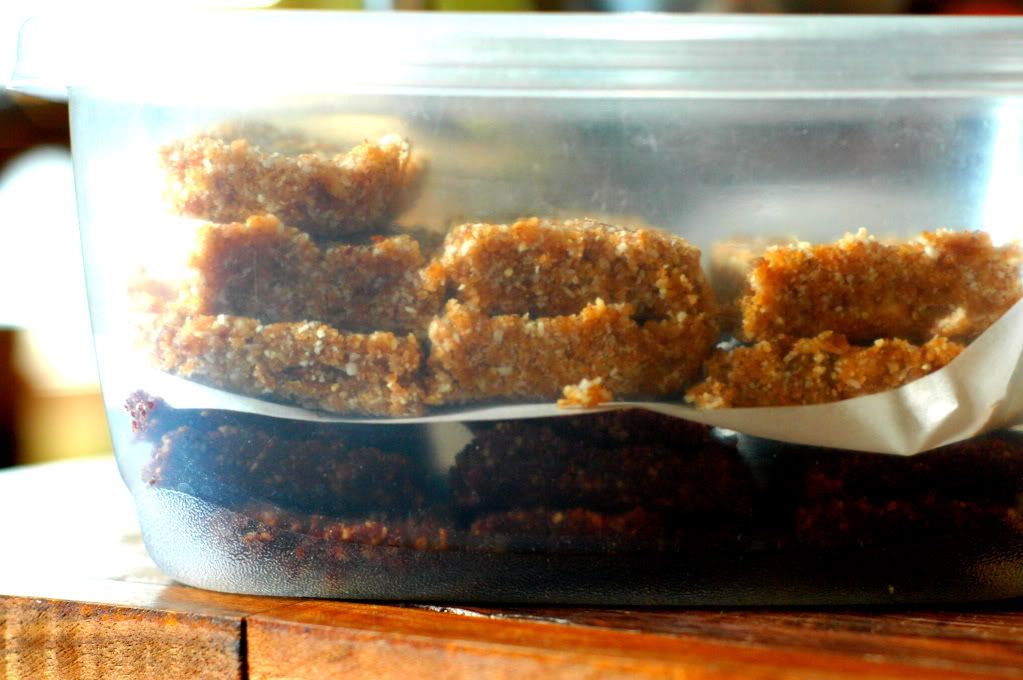 As life gets busier (and more fun!), having a kitchen system set into place and having wonderful "go-to" recipes for snacks makes a big difference. There's not always time to play in the kitchen, but that doesn't mean that I still can't whip out some delicious whole-food goodness for the family.
Booya.
For other great meal ideas, no matter what your dietary restrictions, check out the meal planning service I use: Real Plans.
If you like it, Share it!